Corporate Sponsor, Ad and Exhibitor Information

Corporate Sponsor, Advertising and Exhibitor Information
View the 2018 convention program: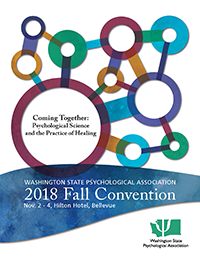 Sponsor RSVP Deadline: August 31, 2019
Corporate Sponsor Opportunities
RSVP Deadline: August 31, 2019
Premium Corporate Sponsor - $5,000
The following benefits will be provided:
Supporting Corporate Sponsor - $3,000
The following benefits will be provided:
Washington Psychologist Awards Corporate Sponsor - $1,000
Washington State Psychological Association recognizes individuals and organizations who have contributed meaningfully to the purpose of WSPA. The awards banquet, with up to 125 people attending, will be held at lunch on the first day of the convention (Friday). The following benefits will be provided:
Saturday Luncheon Corporate Sponsor - $2,000
Your sponsorship will help reduce the per person cost of the lunch.
The following benefits will be provided at both luncheons:
Convention Afternoon Breaks Sponsor - $1,500
Convention goers really appreciate an afternoon break and snack to keep their attention during the last part of the day. This sponsorship covers Friday and Saturday afternoon breaks and will reduce the per person cost.
The following benefits will be provided:
Newly Licensed Psychologist Breakfast Sponsor - $1000
Newly licensed psychologists are invited to a free breakfast to learn about their profession and receive their first 1CE credit. Your sponsorship will help defray the cost of breakfast.
Student Poster Session Sponsor - $500
Students must submit high quality proposals in order to be accepted into the WSPA Convention Poster Session. Your sponsorship will help reduce the cost of poster display board rentals and be applied towards the cash and gift prizes for first, second, and third place posters.
(Sold Out!)

Exhibitors have the option to exhibit one or two days. We anticipate 100 attendees on Friday and 100 attendees on Saturday. No exhibitors on Sunday due to the single CE workshop and minimal activity expected.
6 foot tables are provided which will sit up to two people. Exhibitor Tables will also come with a program ad to extend your brand on Sunday and after the convention. Program ads are discounted 25% for exhibitors. See below for ad dimensions and files. For business card ads, please provide a high resolution scan of your card or send your card to us and we will scan for you.
Fifteen table spaces are available for exhibitors which will be located in a high-traffic area, in close proximity to registration and break stations. Tables include a 6 foot table and two chairs. Tables will include a plain black linen covering.
Days
Table with
Bus. Card ad
(Hz layout only)
Table with
1/4 page ad
Table with
1/2 page ad
Table with
full page ad
1 Day - Fri or Sat
$325
$400
$510
$625
2 Days
$475
$550
$660
$775
Convention Program Ad specifications
(Program size is 8.5 x 11 printed full color. All dimensions width x height.)
Business Card 3.5 x 2 (horizontal design only). If you are not able to provide a high resolution scan of your business card, please send a clean business card to the office for high-quality scanning. Send to: WSPA, 9 S. Washington St., STE 201, Spokane, WA 99201
1/4 page 3.5 x 4.75 inches tall
1/2 page 7.5 x 4.75 inches tall
Full page 7.5 x 10 inches tall (no bleeds)
Back cover 8.5 x 11 inches w/bleed, live area 7.5 x 10 inches
Convert all color to CMYK
Acceptable files
PDF - Press ready
.tif and .jpg- resolution set to 300 dpi
Send files up to 5 MB to: designer1@tcapdesign.com, phone 509-747-4930, ext. 2003
Files greater than 5 MB, send email to wspa@wspapsych.org and a dropbox link will be sent for uploading your file.
Commemorative Convention Tote Bag Specifications

Art requirements: Your company logo will be printed in one color on chosen convention bag color. Supply a high res black and white .tiff (300 dpi or higher), PDF, or .eps file. Logo dimensions: 5 x 5 or 1500 x 1500 pixels. We will scale down logo as needed.
| | Friday 10/11 and Saturday 10/12 |
| --- | --- |
| Exhibit Set Up | 7 am 7:30 am |
| Registration | 7:30 am - 8:30 am |
| Attendees Morning Break | 10:30 am 10:50 am |
| Attendees Lunch | 12:30 pm 2 pm |
| Attendees Afternoon Break | 3:30 pm 3:50 pm |
| Exhibit TearDown | 4:00 pm |
| Workshops End | 5:30 pm |
Exhibitor Guest Rooms & Shipping Materials to the Hotel
Guest Rooms: If you need a guest room for the convention a special $109 per night rate is available (single or double occupancy). Parking for guests staying at the Hilton is also discounted to $15 a day. To make guest room reservations call the hotel directly at 425-455-1300 and ask for the WSPA Convention rate. Guest room cutoff date is TBD.
Ship Materials to:
Hilton Hotel
300 112th Ave SE
Bellevue, WA 98004
Address Label should include:
WSPA Fall Convention
Arrival Date: October 11, 2019

Provide advance notice of shipment to:
Kylee Petrin
Hilton Hotel Bellevue Catering Sales Manager
Kylee.Petrin@Hilton.com (preferred communications)
425-455-1300
If there are multiple packages, please label 1 of (maximum number of packages) and so on. Packages for events can be held in the Hotel up to (3) working days prior to the event.
There will be a $4.00 per package Receiving/Storage charge fee. For packages received prior to (3) working days, there will be a $10.00 per package Receiving/Storage fee. A $1.00 per package or $15.00 per pallet Freight Handling Room Delivery Fee applies on an in and out basis. If individual guests are responsible for these charges, Hilton Hotel requires payment information.
NOTE:
Receiving and Storage charges will be billed to exhibitor by WSPA after final hotel invoice is received.
What If I Cant Attend to Set Up or Staff My Display?
Organizations are responsible for providing staff to set up, tear down, and staff exhibits. WSPA will not provide set-up, staffing or display services during the Fall Convention.
EXHIBITOR TERMS AND CONDITIONS
ELIGIBLE EXHIBITS: The Washington State Psychological Association (WSPA), reserves the right to determine the eligibility of any Company or Product to exhibit in the Convention and further reserves the right to reject any application and/or limit space assigned to any one Company.
CANCELLATION, WITHDRAWAL OR REDUCTIONS IN SPACE: Cancellation or reductions in space and refund is subject to the following conditions: Exhibitors shall give written notice of cancellation. If written notice is received more than 30 days prior to Convention opening, total money less a 50% cancellation fee will be refunded to Exhibitor; no refunds will be allowed for any cancellation less than 30 days prior to the opening of the Convention and WSPA reserves the right to resell space.
SPACE ASSIGNMENTS AND SUBLEASE: Booth assignments will be made according to the order of purchase. Exhibitors may not sublease the booth or any equipment provided by WSPA, nor shall Exhibitor assign this lease in whole or in part without written approval by WSPA in advance of the trade Convention.
RELOCATION OF EXHIBITS: WSPA reserves the right to alter the official floor plan, and/or re-assign any Exhibitors location as deemed advisable. WSPA further reserves the right to make such changes, amendments and additions to these terms and conditions and such further regulations as it considers necessary for the good of the Convention.
LIMITATION OF EXHIBITS: WSPA reserves the right to stop or remove from the Convention any Exhibitor, or his representative, performing an act or practice, which in the opinion of convention management is objectionable or detracts from the dignity of the Convention or is unethical to the business purpose of the Convention. WSPA reserves the right to refuse admittance of exhibits or materials to the Convention until all dues and fees owed are paid in full. No Exhibitor shall hold any social event, hospitality suite, meeting or demonstration, to which attendees are invited that is in conflict with the official Convention schedule. In addition, ANY such activities may not take place outside the official Convention schedule without the express written permission of the WSPA.
MUSIC, AUDIO EFFECTS, PHOTOGRAPHY and VIDEOTAPING: Music and audio-visual devices with sound are permitted only in those locations designated by WSPA and at such decibel intensity as not to interfere with the activities of other exhibitors. Photography and videotaping other than by official WSPA photographers is not permitted within the exhibit hall. Only the exhibitor may grant permission to have its exhibit and/or products photographed.
COPYRIGHT LAW: No copyrighted music may be played or sung in the exhibition area in any fashion (including, nor limited to, background music on video or audio presentations) without obtaining appropriate licensing. The exhibitor shall indemnify WSPA and the facility, their officers, directors, employees, and agents and save them free and harmless from any and all liability whatsoever, for any infringement of or other violation arising out of the use of copyrighted music.
SECURITY: WSPA is not responsible for damage to, loss and/or theft of property belonging to any exhibitor, its agents, employees, business invitees, visitors or guests.
APPLICABLE LAWS: This contract shall be governed by the laws of the State of Washington. Exhibitor agrees to abide by all federal, state, and city laws, ordinances, and regulations concerning fire safety, health, environment, public safety and hazardous materials and all regulations and restrictions imposed by the Facility. All displays and decorations must be fireproof.
LIMITATION OF LIABILITY: The Exhibitor agrees to make no claim for any reason whatsoever against WSPA, their officers, directors, employees, agents and authorized representatives, the facility/hotel, for any of the following:

Loss, theft, damage to goods, or injury to himself, his employees, or attendees while in the exhibition area, nor any consequential damage to his business for failure to provide space for the exhibit or for the failure to hold the event as scheduled. The Exhibitor assumes entire responsibility and hereby agrees to protect, indemnify, defend and save harmless all parties from claims, losses, damages to persons or property, governmental charges for fines and attorneys fees related to the use of the exhibition premises or part thereof. In addition, Exhibitor acknowledges that neither WSPA nor the facility/hotel maintains insurance covering Exhibitors property and that it is the sole responsibility of Exhibitor to obtain business interruption and property insurance covering such losses by Exhibitor.

The above cited regulations as well as all conditions stated in the Exhibitor Prospectus and exhibit application become a part of the contract between the Exhibitor and the WSPA.
INSURANCE: All property of the Exhibitor is understood to remain under its custody and control in transit to and from or within confines of the hotel/facility. WSPA does not maintain insurance covering Exhibitors property.
FORCE MAJEURE: In the event the Facility or any part of the exhibit area thereof becomes unavailable, whether for the entire event or a portion of the event, as a result of fire, flood, tempest, inclement weather or other such cause, or as a result of governmental intervention, malicious damage, acts of war, strike, lock-out, labor dispute, riot, or other cause or agency over which WSPA has no control or should WSPA decide, because of such cause, that it is necessary to cancel, postpone or re-site the exposition or reduce the move-in or installation time, Convention time or move-out time, WSPA shall not be liable to indemnify or reimburse exhibitor in respect to any damages or loss, direct or indirect, arising as a result thereof.
TERMINATION OF RIGHT TO EXHIBIT: WSPA reserves the right to terminate without notice an exhibitors right to exhibit if an exhibitor or any of their representatives fail to observe the conditions of this contract, or in the opinion of WSPA, or they conduct themselves in an unethical or unprofessional manner. Such exhibitors will be dismissed without refund.
ADDENDUM: WSPA reserves the right to make changes, amendments, and additions to these rules as considered advisable for the proper conduct of the exposition, with the provision that all exhibitors will be notified of such changes.
GENERAL CONVENTION POLICIES: Noisy or offensive exhibits are prohibited. Distribution of literature or samples must be related to the exhibit and distribution limited to within Exhibitors space. Canvassing the exhibit hall is strictly prohibited. No food or beverages may be distributed from Exhibitors space without pre-Convention approval of WSPA. The Exhibitor may not display signs that are not professionally prepared, or that in the opinion of the Convention Manager, detracts from the appearance of the Convention in any manner whatsoever. WSPA shall have sole control over all admission policies at all times.
CONFERENCE ACTIVITY APPROVAL: Any conference activity or demonstration planned before, during or after the meeting by vendors (including but not limited to exhibitors, sponsors) that involve conference invitees, meeting attendees, delegates, officers must be approved by the (Association). Generally such activities may not take place without pre-approval to maintain the educational integrity of the conference or meeting. Certain activities, once approved may warrant premium charges.
USE OF DISPLAY SPACE: A representative of the exhibiting company must be present at the booth(s) at all times during the posted exhibit hours. With the exception of book publishers, the sale of merchandise or equipment of any kind is prohibited in the exhibit hall. The use of the WSPA logo on displays, signs, giveaways, promotional literature or other material is strictly prohibited. In addition, the use of the acronym WSPA must not be used on pre-, at-Convention and/or post-Convention promotional material unless specific written permission is granted. Signs or other articles are prohibited from being fastened to the walls, pillars or electrical fixtures. The use of thumbtacks, tape, nails, screws, bolts or any other tool or material which could mar the floor or walls is prohibited. Drip pans must be used under all equipment where there is a possibility of leakage. No helium filled balloons or adhesive backed stickers may be used or given out by exhibitors.
2019 Sponsors to date:

---

Washington State Psychological Association (WSPA) is approved by the American Psychological Association to sponsor continuing education for psychologists. WSPA maintains responsibility for this program and its content.