75th Anniversary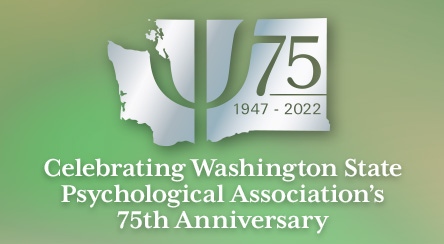 This year, the Washington State Psychological Association is celebrating its 75th anniversary. Formed in 1947, WSPA has been a key player and a champion for change in the field of psychology. WSPA's mission to support psychologists and psychologists-in-training, promote the practice of psychology, and to ensure continued education and advancement of knowledge within the field of psychology is still relevant today. WSPA has helped redefine the field of psychology in the public eye through advocacy, and continues to work with the same vigor today.

In celebration of this milestone, WSPA will begin to collect stories of some of its longest-standing members. Some interviews will be posted online, while some interviews will be recorded online and can be viewed here.

For current members, a commemorative membership certificate will be sent out upon renewal, whereas a new primary members who join are offered a $75 discount and student members a $7.50 discount through the end of December 2023.

WPSA remains nationally respected and admired at American Psychological Assoc for its continued membership growth and financial stability, being one of 20 state/provincial psychological associations that provides members with practice consultation through a Director of Professional Affairs, a strong commitment to social justice issues, and forwarding the field with state legislative achievements of such has healthcare parity, PSYPACT and push for RxP.


Cheers to Many More Years!


Your membership will help us:
Build legislative policies that benefit the public and psychology
Impart knowledge to increase diversity and cultural understanding
Communicate successful counsel on managing clients
Assist members with information and best business practices