75th Anniversary - Member Stories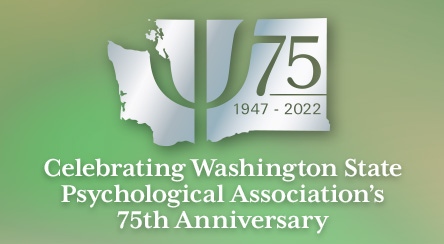 75 years is an amazing milestone for any organization. We are interviewing some of our long time members who have been instrumental in the success of WSPA and posting their stories here. With over 700 members it is not possible to interview everyone, but if you would like to add your story, please download this questionnaire and we will edit your answers down to about 500 words.


Dr. Anton's 30+ years of experience with the Washington State Psychological Association provided a rich history of success and celebration, and we are excited to share these memories.
Dr. Anton is a Board Certified Child Psychologist. He studied at the University of Vermont, Colorado State University, and completed a clinical internship from the Harvard Medical Center. Dr. Anton is a scholar, receiving the title of distinguished professor from the University of Puget Sound, which led to the opening of a full-time private practice, and he joined WSPA in 1988.
"WSPA is a launchpad," said Dr. Anton. "I joined, I went to a few meetings then I would get involved with the government and Legal Affairs committee."
Dr. Anton's involvement in the leadership committee provided him with rather thorough, albeit rather sudden, boots-on-the-ground experience. When Lucy Homans, WSPA's Director of Public Affairs, asked Dr. Anton to serve the Board of Trustees as treasurer, he quickly received a trial-by-fire for the world of psychological representation.
"I learned that advocacy can make things happen," said Dr. Anton.
Such advocacy was crucial in passing necessary Washington legislation like the Parental Notification Bill, which alerted parents if their children under 18 had requested psychological help.
In maintaining such a long membership, Dr. Anton has been given the unique perspective of seeing how WSPA has grown. He has seen executive successes and failures, seen how WPSA has recruited more and more talented members, and even overcome membership challenges in the past.
"It's been ups and downs," said Dr. Anton. "We had membership challenges [but] if people understand why we're doing what we're doing, and that's something that they embrace, they'll pay their dues."
Despite rocky years and other WSPA challenges, he still holds faith in the organization's ability to affect change.
Things like parity legislation, advocacy on the state level against [predatory] insurance, how to deal with adverse legislation, and all sorts of things happen through the organization. "They don't happen individually. They can't," said Dr. Anton.
All in all, WSPA has been integral to Dr. Anton's continued successes as a Washington State psychologist. The nature of having such a connected network of talented people, all working towards the same goal, ignites passionate waves of support to whoever could need it, patient or psychologist.
"[WSPA] is a tremendous resource; they are passionate advocates for their mission," Dr. Anton said in closing.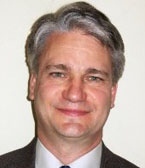 Dr. G. Andrew H. Benjamin has been a member of the WSPA since 1984 and has been an advocator for mental health and the practice of psychology in Washington state for 30 years. Dr. Benjamin received the Professionalism in Practice award in 2018 from the Washington State Bar Association and has received numerous other awards such as the esteemed Heiser Award from APA. He is now in the position of director for the Parenting Evaluation Training Program at the University of Washington. He currently works with families that are in high-conflict suits as well as alongside lawyers processing through mental health illnesses as well as with drug abuse difficulties in various positions of governance. He has 72 peer-reviewed articles ranging from psychology to law and psychiatry. Dr. Benjamin has four books published by the APA and one book published by Sage Publishing.

He received his B.A. from the University of Oregon's Clark Honors College and his M.A., J.D., and Ph.D. from the University of Arizona. Dr. Benjamin served on the WSPA Board of Trustees, which lead to his terms as President of WSPA and then further into his career as the President of the American Psychological Association, or APA. This potential for mentorship was immense, such that Dr. Benjamin was able to quickly put himself into a position of leadership. The training ground for leadership began here in WSPA, said Dr. Benjamin.

Most of Dr. Benjamin's experience with WSPA derives from education, be it Continuing Education (CE) opportunities for psychologists in a professional realm such as developing and presenting seminars or educating lawmakers on mental health for proposed legislation. He feels it is an obligation of psychologists to educate legislators on the issues that will have an effect on the practice of psychology.
Because of Dr. Benjamin's prestigious career, he has been involved in numerous important and detrimental cases, and some of the amicus curiae briefs were considered by the Supreme Court of the United States, as well as the Supreme Court here in Washington. These amicus curiae briefs have set a precedent for rights in Washington state such as the Death with Dignity act in 2008, approval of same sex marriage in 2012, and the ban of conversion therapy in 2018.

One of the most beneficial outcomes of Dr. Benjamin's presence and available opportunities for psychologists within WSPA is the Good Trouble Committee. This committee is responsible for educating both the professionals and the people they serve on aspects such as microaggressions, deep-seeded subconscious beliefs, updated appropriate language, and many other socially responsible endeavors.
In addition to the good an organization like WSPA can accomplish in a broad, legislative way, Dr. Benjamin also complimented WSPA on its amiability and skillsets. I'm very proud of our association for this, said Dr. Benjamin. We have very generous members, and so, when I joined as a student member, I picked up some mentors right away. Benjamin attributes his opportunities within WSPA governance to his success at APA, and he urges psychologists to join their professional associations, citing Only a third of all WA psychologists are a member of our state association Among all the benefits outlined above, the collegiality of WSPA continues to stand triumphant over all.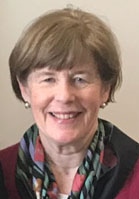 Lucy Homans, Ed.D., gained her first degree of Bachelor of Arts in Political Science from Tufts University, her Masters of Education & Masters of Arts in Counseling Psychology from Teachers College of Columbia University, and finally her Doctorate of Education in Counseling Psychology. She has received multiple awards during her esteemed career, including the Presidential citation for her advocacy as well as enduring leadership for her time spent as the Director of Professional Affairs as well as the APA's reputable Karl F. Heiser award. First joining WSPA back in the early 1990's in the early 90s, Dr Homan's clinical supervisor was the Chair of WSPA's Government Relations Committee. Because of Dr Homan's interest in legislation, she joined the committee and became a WSPA member. Dr. Homans is most well-known for her 33-year role as WSPA's Director of Professional Affairs, in her role as the DPA for WSPA she was considered an advocate as well as a vast informational resource on professional as we'll as practice knowledge. Which included everything from health parity, billing, health care findings, licensure, psychological testing as well as prescriptive authority.

Dr. Homans is personally motivated through her passion for education. Coupled with the love for psychology , Dr. Homans knows that in order to influence the change everyone can benefit from, she must start at the state lawmaking level. Dr. Homans made it her mission to provide Washington State psychologists with not only incisive but also client-centered advice about the ethical and governing affairs of Washington State. Dr. Homans' proudest accomplishment in her extensive career would be her involvement in the mental health parity bill. This bill was originally written in 1998 but it was not passed until 2004. When this bill was passed it meant for Washington residents was that your health plans overall deductible, copays, coinsurance as well as the out-of-pocket maximum must pertain to all protected services not excluding mental health. Insurance companies cannot decide what they choose to cover or not cover due to mental health illnesses such as Bipolar Disorder . Passing this bill helped fight the stigma based around mental health illnesses.

Most state legislators know absolutely nothing about the diagnosis and treatment of mental disorders, said Dr. Homans. The professional issues, the clinical issues, you name it. So then, it becomes the obligation of psychologists to step up to the bar and do our part in educating the people who are regulating us. When it became clear Washington legislators knew little about mental health issues, it sparked her involvement in major legislative change. In 1996 psychologists and psychiatrists were unable in the state of Washington to have practices together. As psychology was evolving and connecting with mainstream medicine, psychologists decided that psychologist and psychiatrists needed to have the ability to work together. The new law was changed to include a wide variety of professions being able to open with psychologists, but it was not until the second year of the law change that doctor were included in that law and finally able to open up with psychologists.

For early-career psychologists, getting to know your colleagues will give you an unmistakable leg-up in your career mobility. One of the most consistently praised benefits of WSPA is the collegiality. Joining a professional association is collegial! You get to know your colleagues. said Dr. Homans. Through this association's last 30 years, professional peers were able to access pre-internet connections to one another and build a network of practitioners that everyone can benefit from. Now, in our online era, these benefits reach and extend far beyond a geographical grasp. WSPA always managed conventions. That's how you met your colleagues, got continuing education, kept up your learning, and got involved, said Dr. Homans. Providing that place was really important. Dr. Homans continued to share some of her fondest memories thanks to WSPA. One of her friends, Gail McGaffin, provided WSPA with a senator's eye, bridging the gap between lawmaking and professional practices for all members of WSPA. [Gail] had an incredible skill of knowing how to write legislation. It was an art form, said Dr. Homans. Dr. Homans participated in made strides to cover telehealth services, especially relevant to early COVID-19 quarantines, and maintained the public access to those now crucial mental health services.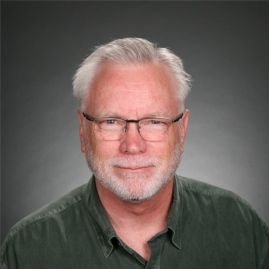 Dr. McCurry shared many stories, some victorious and some challenging, but all in praise of the people and the power of WPSA.
Chris McCurry, Ph.D., is a retired child and family psychologist hailing from the Pacific Northwest. Dr. McCurry has been a member of WSPA for 9 years, joining back in 2013. He has broad experience in telehealth, leadership roles, foundational roles, and experience leading his own practice.
"WSPA is an investment," said Dr. McCurry, "that keeps everyone honest and makes sure that people get healthy."
WSPA has been an integral part of Dr. McCurry's professional and personal developments. Having been a member for nearly a decade, he has seen WSPA follow through on its own promises time and time again.
"It is not until something really egregious happens, where people become aware that 'Oh, gee, my livelihood is being imperiled here' - that's when we go to bat for you," he said.
Egregious things include predatory insurance policies, wrongful suits, disingenuous lobbying, and other factors that make mental health assistance less accessible, as well as political forces that attempt to devalue a psychologist or limit their practical abilities.
Dr. McCurry also served on WSPA's Board of Trustees as the President, for the year of 2015, which was a "very tumultuous year".
"Membership was lagging, we had a lot of financial challenges, but we managed to get through that as a WSPA team," he said.
Thanks to the combined efforts of the whole of WSPA, his year serving as President began a crucial shift.
"The mindset has absolutely, definitely shifted more positively," said Dr. McCurry.
In closing, he further sang the praises of being a member of such a valued and established organization.
"WSPA is trying to protect the consumer, and stays on the lookout for anything that is going to impede access... It's an investment in keeping everybody honest and making sure that people get healthy."

Albert Paige, Ph.D, has been a distinguished member of WSPA since its near inception, joining when he first arrived in Washington state in the 1960's. He started his Washington career on the coattails of his graduation from the University of Kansas. He and his wife, Ruth, both from NYC, continue to be WSPA members to this day.
Having spent such extensive time as a member of WSPA, he has seen the organization grow from a humble academic association into the tour de force it has become today.
He describes the earliest days of WSPA as a Texas barroom, and he is especially pleased that those days are now behind the association.
Given the fact that WSPA has humble beginnings, it has had plenty of room to grow. Dr. Paige elaborated that one of the most successful WSPA victories was partnering with workers and communities in nursing, which led to substantial DC success.
"If you want to be successful in psychology, you need to align yourself with nursing," he said. "And when we moved in that direction, that resulted in a much stronger position for the public in general."
Singing similar praises as other previous long-term members, he was quick to outline WSPA as a hugely positive investment into his future. Be it socially or professionally, WSPA has provided him with support and opportunities unlike any other.
"WSPA provided a change from my position at the VA and on faculty at UW to one that was more involved with the public," said Dr. Paige.
Dr. Albert Paige is excited to celebrate the 75th anniversary of WSPA, and looks forward to the organization's new members and the opportunities they will gain in joining this distinguished association.
"Interesting problems need interesting solutions," said Dr. Paige. "WSPA has a high level of participation by the membership, has good meetings, and accomplishes good things that relate to psychology."

Ruth Paige, Ph.D. is another of WSPA's most long-time members, proudly serving since the 1960's. Now retired from clinical practice, Dr. Paige continued the momentum of idolizing WSPA for everything they have done for her.
"WSPA was my biggest source of identification, and stayed that way for several years," said Dr. Paige. "I served on a lot of different parts of the governance, and you'll see that I had a particular personal interest in the early days."
She went on to explain how her knowledge of the laws and legislature, coupled with her personal interest in social psychology related fields, like LGBTQ+ representation and counseling, connected her with similarly focused members of WSPA. These partnerships and cohorts allowed her to grow as a practicing psychologist.
Dr. Paige has been an esteemed member of WSPA for so long, her influence as a mentor has circled back around almost completely.
"There was a time," she said, "where there was a board meeting and every single person at the meeting was someone I had mentored. It was very interesting."
When she set up her own private psychological practice, many fellow members of WSPA joined her professionally. This practice lasted for approximately 25 years.
"It was a very good starting point for me, [the organization]," she said. "My practice built very rapidly, and WSPA was involved with that."
Many of these psychologists that Dr. Paige practiced with were involved in WSPA governance, further adding to WSPA's repertoire.
Speaking of starting points, WSPA also opened a variety of doors for Dr. Paige, especially during her more active years.
"Well, it became my career. It was really integral to my success," said Dr. Paige. "It's very good to have been involved with something."
WSPA connected her to opportunities in APA, which has introduced her to psychologists all over the country. Through working in close proximity with psychologists at the national level, Dr. Paige made friends and associates in farther reaches that wouldn't have been as easily accessible.
Finally, Dr. Paige shared in closing:
"I was enthusiastic about WSPA," said Dr. Paige. "About what I had done, and whenever I spoke to people who were not members, I urged them to become members... Everyone brings something valuable to the table."